Too often, as team members, we come together to work on an inspiring project and waste time and money attempting to navigate confusing communication. Miscommunication and a lack of clear vision create roadblocks to collaboration, which leaves us feeling isolated and misunderstood. We begin to doubt whether we can trust the people around us, and we spend our valuable time worrying about the implications of unmet deadlines and wasteful investments instead of engaging in productive collaboration. Exasperation and disappointment in the lack of support we feel from colleagues drains our energy and willingness to continue working as a team.
Working with people from different cultural backgrounds can amplify this stress. In collaborations across cultures, we get stuck trying to understand the seemingly illogical behaviors of the people around us. We yearn to feel a sense of accomplishment and satisfaction in our work, only to show up each day and encounter seemingly inexplicable barriers to progress embedded in our relationships.
All of the leadership and communication trainings give you the opportunity to free yourself from the barriers to collaboration and unleash your team's collective potential. Finally feel the support you desire and the results you need by learning to predict and successfully adapt to costly miscommunications. When you can no longer afford the burden of unsupportive and unproductive relationships, ReFresh is here to move you forward.
Increased awareness and new communication skills empower you to:
discover the logic behind confusing communication so that you can work effectively and efficiently with your team
cultivate connections that lead to more trusting relationships so you know you can rely on your team for support
develop self-awareness so you can realize the impact you have on other people and be freed from puzzling misunderstandings
work through conflict so you can achieve your goals
stop wasting time worrying about challenging team dynamics so that you can focus your attention on the work that matters
become a more creative problem-solver so you are able to adapt to new situations with flexibility and ease
Additionally, the cultural workshops train you to:
navigate predictable cross-cultural communication barriers using simple maps instead of attempting years of trial and error so you can rapidly open the lines of communication
develop cultural competence so you can be effective in your collaborations
demystify and perplexing ongoing communication issues
The training design ReFresh uses first shows you these predictable, hidden communication blocks, then teaches you how to speak about them, then you learn the tools to navigate them.
An effective training engages the entire body. Calling upon well-documented approaches to adult training, ReFresh's facilitators create a safe and fun environment for participants to explore the intellectual concepts, emotions, applied experiences, and potential cognitive blocks associated with the content we explore. Calling upon a network of professional facilitators with international experience, ReFresh works with you to co-create a training design that meets your current needs and future goals. Depending on your organization's requests, we creatively assess language, content and training location considerations.
Cultural Competence Workshops
Intercultural Conflict Styles Inventory™
The cultural competencies included in this dynamic workshop supports your team's growth in becoming more flexible cross-cultural leaders. When working across cultural differences, we initially – and often erroneously – are convinced that personality differences are the main issue in cross-cultural professional relationships. When this happens, productive problem solving screeches to a halt as people get caught in a downward spiral of confusion and blame. As you learn to apply a cultural lens to this ongoing conflict, you soon discover that there are very predictable and workable barriers to communication. By shining a spotlight on our unconscious perspectives and how they inform communication style, your staff is empowered to recognize and work with these barriers, leading to more effective problem-solving.
Global Competencies Inventory™
The Global Competencies Inventory™ (GCI) measures leadership effectiveness competencies of business managers and global leaders in areas critical to interacting and working effectively with people of different cultures. The GCI gives teams valuable insight into the way individuals will interact with foreign counterparts and the local culture. The information from the inventory can also guide a individualized or team coaching program to help fill gaps and encourage professional and personal development. This information can guide the selection of staff, saving the company time and money. Often companies send employees abroad who are experts within their industry and experienced in the company, yet they fail to connect with international counterparts on the ground resulting in damaged business relationships, product delays and a high turnover rate.

BrainStates Management™
The BrainStates Management™ System is based on the neuroscience of perception, self awareness and conscious choice. The BrainStates Management™ Self-Assessment and accompany workshops offer a practical new framework for increasing adult learning effectiveness and the behavior change process. At ReFresh, we uses this tool help individuals and teams develop brain skills that increase self awareness, improve decision making, and keep the brain moving forward towards higher level outcomes and results as related to leadership, inclusively and change.
BrainStates Management™ & Inclusivity
The reactive tendencies of the brain greatly affects our ability to create an inclusive environment. The brain is wired to prefer that which is familiar and move away from the unfamiliar. It takes the capacities of the higher brain, like the ability to question biases and work through difference creatively, to create an environment where people from different backgrounds can work together. If we continually slip into the lower brain, we are more likely to react impulsively and see things only from our limited perspective. In this workshop, participants learn how manage different brain states and learn to override aspects of the unconscious brain. These skills can significantly improve your ability to intentionally engage in and sustain inclusive behaviors – even when someone's differences may be unfamiliar or uncomfortable.
BrainStates Management™ & Leadership
BrainStates™ affect leadership on a daily basis. The examples set by a leader directly informs the culture that is created in an organization. Staff pick up on this example either consciously or unconsciously. When one learns how to keep the higher brain online, they can stay connected with a higher purpose, make conscious choices and intentionally cultivate positive emotions. Furthermore, learning about BrainStates™ makes us more aware of personal hot buttons – the things that send us into lower brain states. This session equips participants with practical, brain-based strategies and tools to identify and manage brain states, exploring take away tools for practicing brain-based behaviors that build trust and communication effectiveness.
Communication for Management and Leadership Across Cultures
The CMLxC remote program is for field-based international development professionals who work with staff from multiple countries. This 4-month, train-the-trainer course provides participants with a curriculum that addresses challenges of collaborating on development projects across cultures including confusing communication, the stress of trying to decipher seemingly illogical behavior, and persistent barriers to trust. During the course of this program, your trainers facilitate a sequenced curriculum that help teams get on track and stay on track through the ups and downs of a project. The 9 coaching calls builds their capacity as facilitators while helping the entire organization gain a better understanding of cross-cultural leadership. The program supports dynamic organizations that want the best training available, but are unable to hire experts to train in-country for months on end.
"Emily's concept of direct and indirect thinkers put a name to what I've been dealing with in my Engineers Without Borders work, and it seems to be the number one reason for failures in the project my chapter has been working on, and in development work in general."

-Elyse O'Callaghan, Marquette University (USA)
Personal Leadership™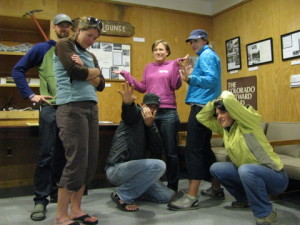 Colorado Outward Bound Training
USA 2014
The Personal Leadership™ training gives your team the opportunity to use their natural leadership skills when they confront ambiguous, confusing or confounding situations such as those faced when working, traveling or studying abroad. This model is centered on the question: How can I consistently bring out the best in myself and my team members? The answer may surprise you, for it has less to do with rewards, punishment, authority, persuasion and charisma, and more to do with purpose, beliefs, practice, and empathy.
The 4 Keys of Surviving Culture Shock
The experience of transitioning into and out of a foreign country is a challenge to every aspect of our being – physically, psychologically, emotionally and spiritually. It is even more painful when you step into this initiation blindly. After the initial excitement of landing in a new country, stress, confusion, frustration, loneliness and often anger predictably overwhelm your system. This training empowers participants to understand what is happening in this transition and thoroughly explores personalized coping strategies that support their adjustment. When cultural adjustment is experienced with this level of awareness, it equips you with vital skills to make any major life transition in the future.
Diversity and Inclusion Trainings
Most organizations face challenges related to management, leadership and communication across cultures. These cultural differences –whether related to generation, gender, race, sexual orientation or nationality – are often written off to difficult personality differences but this is not always the case. In this engaging and interactive diversity training, we go far beyond cultural sensitivity concepts and into cultural competence skill-building. This training brings your team's communication skills to the next level without making anyone feel guilty!
Leadership Workshops
Having Difficult Conversations
A core competence for effective leadership is being able to work through difficult conversations. Often the more there is on the line, the more we avoid these conversations. Whether giving difficult feedback, confronting conflict, or expressing personal desires, we often have much more to gain from engaging in a difficult conversation than avoiding it. Having difficult conversations requires purpose and takes courage. This workshop series introduces a new way to think about and approach difficult conversations. The tools we cover will help participants organize their thoughts and prioritize certain conversations. Participants will identify their unique resistance to difficult conversation and find new ways to move through them. The central focuses are addressing fears and avoiding defensiveness.
"Emily's style and approach to cross cultural training promoted self-confidence, and motivation to breakdown preconceptions, prejudices, and stereotypes that obstruct our understanding of other people."

-Darren Grosch, Director, Center of International Education, Otis College (USA)

Team-Building Retreats
Team retreats (or "advances" as we like to say) create the opportunity for a positive and supportive group culture to emerge. Investing time in a team retreat provides team members the opportunity to work through potential issues in a calm atmosphere. In this setting, the team is given a chance to form intentional relationships so when there is a crisis, people know who they can count on and how to communicate about issues. Ultimately, the retreat is about building trust and supporting the resilience of the team. In addition to offering valuable skill-building components, ReFresh's facilitators can hold an unbiased position if a conflict emerges and can offer objective guidance on how to grow the group's collective capacity. Additionally, the presence of our facilitators frees up all team members to explore their role in the team dynamic. We work with your team leaders to co-create a program that fits your needs.
Some possible retreat features include:
Establishing a foundational a unified team mission

Mapping the lines of (mis)communication

Giving difficult feedback

Identifying working styles (and predictable conflicts)

Conflict resolution

Mapping communication styles

Group life cycle

Identifying the support you need from your teammates

Listening across difference

Decision-making models
Facilitation and Education Workshops
How to Design a High-Impact Workshop™ (Level One)
So you know the ideas you want to convey in your training, now what? How will you make the concepts come to life so that the participants comprehend and remember them? This workshop trains you to use ReFresh's step-by-step guide to refining your main points, generating activities that use well-tested and researched principles of adult learning theory. It also exposes you to a slew of facilitator's "tricks of the trade." This workshop is ideal for inspired individuals who want to hone their skills as effective facilitators and educators.
How to Deliver a High-Impact Workshop: The Principles of Cross-Cultural Facilitation
(Level Two)
Building upon Level 1, this workshop gives you the tools to adapt your facilitation style when there are people from different cultures in your audience. When we step into a teaching role, we usually call upon methods and assumptions about learning that feel familiar and logical to us. For example, we may think students should challenge controversial ideas to create dialogue. Yet another assumption could be that students should refrain from disagreeing to show respect for the instructor. One's assumptions on how to conduct a training reflects culturally learned values that are not readily apparent to us. When we function solely from hidden assumptions, we leave students from different cultural backgrounds in the dust. This training starts by shining a spotlight on our own biases rather than guessing at the biases of our students. We then explore how to adjust the phrasing of questions to best reach people from different cultures, how to build trust with a diverse audience, and how to adjust activities so that people from different cultures can resonate with your ideas. This workshops equip trainers, educators and facilitators with tools to expand and adapt their approach to teaching so that their message can be heard, absorbed and applied. When we fail to adapt, we often unintentionally exclude people with learning styles that are different from our own. This workshop is an excellent feature in a capacity-building program where professionals are being sent internationally to teach their expertise.
"One of Emily's strengths is to discern and adapt her lessons to multiple contexts meaning that the workshops become living multi-tools to navigate our diverse personal and professional relationships. As a facilitator, Emily is engaging, intelligent, and dynamic, attributes that help her material really land in multiple layers of understanding."

-Aaron Slosberg, Executive Program Director, Where There Be Dragons (International)